Secure Document Storage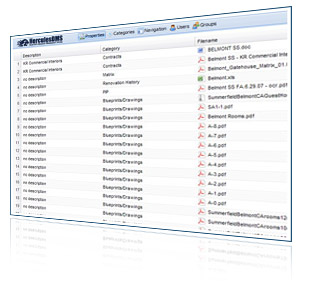 HerculesDMS was developed specifically for the hospitality industry to serve its specific and unique document storage and access needs. From the corporate office to the hotel lobby to the construction site, your organization's users are able to quickly and easily access add, and update files in a easy to use browser-based interface.

Since documents are stored by property in a categorized, searchable format, you can spend less time searching for files and more time focusing on your organization.
Hospitality Intranet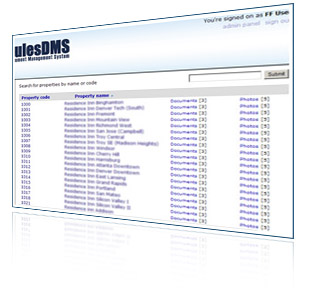 Eliminate the cost and overhead of maintaining a corporate Intranet site on your local network and the IT headaches of remote VPN access. HerculesDMS offers an Internet-based solution that is easy to update and easier to access.

Company directories, standardized forms, web links and more can be added to HerculesDMS and accessed by your staff anywhere with an Internet connection.
Photo Repository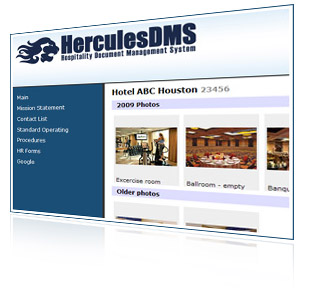 High quality property photos are essential to your marketing efforts. However, multiple photography sources, lack of labeling, and employee turnover can make locating necessary photos a difficult task.

With the photo gallery module in HerculesDMS, each property has a safe location to store images. Galleries can be categorized, photos can include titles or comments, and searching for a specific photo is made even easier with dynamic thumbnail creation. Have a vendor who needs high-resolution photos for your website or collateral materials? Simply create a new user within HerculesDMS with access restricted to your property photos and allow the vendor to get the files directly from the source.

No more problems with emailing large files or mailing CD's.